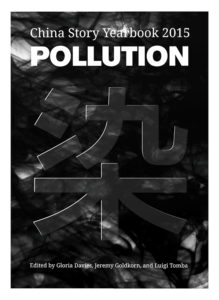 Environmental pollution poses serious challenges for China, including to its economy as well as public health. The China Story Yearbook 2015: Pollution looks at how China's Communist Party-state addresses these problems and how Chinese citizens have coped with and expressed their concerns about living with chronic, worsening pollution.
This Yearbook also explores the broader ramifications of pollution in the People's Republic for culture, society law and social activism, as well as the Internet, language, thought, and approaches to history. It looks at how it affects economic and political developments, urban change, and China's regional and global posture. The Chinese Communist Party, led by 'Chairman of Everything' Xi Jinping, meanwhile, has subjected mainland society to increasingly repressive control in its new determination to rid the country of Western 'spiritual pollutants' while achieving cultural purification through 'propaganda and ideological work'.
To adulterate, contaminate, spoil or violate—these are among the metaphorical and literal connotations of pollution expressed in this Yearbook via the character ran 染, which forms part of the word for pollution in Chinese, wuran 污染. As the world increasingly relies on economic ties with China, the complexities of China's one-party system and the Chinese government's attitudes towards 'pollution' are of increasing global significance.
---
Yearbook 2015: Pollution can be downloaded on the website of the ANU Press as a PDF, ebook.
You can also read or download individual chapters of the Yearbook below.
A key cultural and media event in 2015 was the release, rapid viral popularity, and then nearly complete censorship of Under the Dome 穹顶之下, a documentary about the costs to society of environmental pollution. This edition of the China Story yearbook tackles the theme of pollution: environmental, spiritual, and digital.