The Anthem of the Cyberspace Administration of China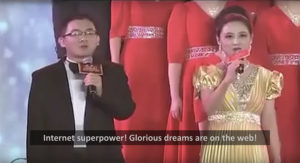 During the talent show section of the Beijing Internet Association's Lunar New Year gala, the Cyber Administration of China (CAC) presented a paean to the country's Internet prowess and the greatness of Internet regulation titled: 'An Internet power: Tell the world that the Chinese Dream is uplifting China'.
For its anthem, CAC reportedly enlisted the help of Zhao Jialin 赵佳霖, one of the artists behind China's summer 2014 pop hit 'Little Apple' 小苹果. At the centre of the anthem is the concept of the country becoming an 'Internet power' 网络强国, a term that encompasses Internet infrastructure, business, culture and governance, and represents the goal of China's Internet development.
Devotedly keeping watch over the space every day,
Taking up our mission as the sun rises in the east,
Innovating every day, embracing the clear and bright,
Like warm sunshine moving in our hearts.
Unified with the strength of all living things,
Devoted to turning the global village into the most beautiful scene.

An Internet power: Where the Internet is, so is the glorious dream.
An Internet power: From the distant cosmos to the missing home.
An Internet power: Tell the world that the Chinese Dream is uplifting China.
An Internet power: I represent my nation to the world.

In this world all rivers flow to the sea,
Assuming the measure of Chinese civilisation.
Five thousand years of history condensed to illuminate innovation,
Integrity is the clear ripple of a nationality.
We are unified between heaven and earth,
Faith and devotion flow like the Yellow River and Yangtze.

An Internet power: Where the Internet is, so is the glorious dream.
An Internet power: From the distant cosmos to the missing home.
An Internet power: Tell the world that the Chinese Dream is uplifting China.
An Internet power: I represent my nation to the world.

在这片天空日月忠诚的守望
为日出东方使命担当
创新每个日子拥抱着清朗
像一束廉洁阳光感动在心上
团结万物生长的力量
奉献地球村成为最美的
风光

网络强国网: 在哪光荣梦想
在哪
网络强国: 从遥远的宇宙到
思念的家
网络强国:告诉世界中国梦
在崛起大中华
网络强国: 一个我在世界
代表着国家

在这个世界百川忠诚寻归
海洋担当中华文明的丈量
五千年沉淀点亮创
新思想
廉洁就是一个民族清澈荡漾
我们团结在天地中央
信仰奉献流淌万里黄河
长江

网络强国: 网在哪光荣梦想
在哪
网络强国: 从遥远的宇宙到
思念的家
网络强国: 告诉世界中国梦
在崛起大中华
网络强国: 一个我在世界代
表着国家